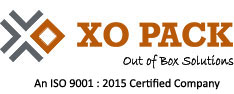 XO PACK PVT. LTD.
A fully automatic corrugated carton box manufacturing company in CSEZ, Kakkanad requires:
1. Accounts Manager (F/M)
10 years of experience in manufacturing industry.
2. Die Punching Operator (M)
Those who have working experience in Carton manufacturing can contact for other related vacancies,
How to Apply?
Send CV before
August 2016
to info@xopack.com .
Tel: 0484 - 4033301 / 8281085456